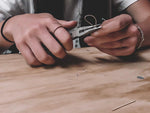 "Taking secondhand strings to provide second chances for survivors of addiction, domestic violence, and human trafficking."
​You have probably seen our mission statement on our website, at the events we pop up at, and on our business cards, but what exactly does it mean?
It means that all of our products are made out of donated musical instrument strings, both played on and new, and every piece is handcrafted by a survivor of addiction, domestic violence, or human trafficking.
Employment through Strings for Hope provides our makers with supplemental income while they are in transition, teaches job skills, and may serve as a form of art therapy. Because employment through Strings for Hope provides flexibility, our makers are able to focus on recovery while maintaining a source of income.
Our makers are our priority and are the reason we exist. We have been able to provide over $100,000 worth of supplemental income to our makers and work with about 10-12 makers at a time.
In order to become a maker, survivors must be apart of a transitional housing program and attend our jewelry making classes. By utilizing transitional facilities, we serve as an additional stepping stone for survivors while they are in transition.
It is our hope that as we continue to grow as a company, we can provide more women with opportunities while breaking stigmas surrounding recovery in the workplace.